Finding Nemo Family Suites at Disney's Art of Animation Resort

At Disney's Art of Animation, from the minute you walk into the building, you are submersed into the theme. Here is a mural of "Crush". This is just one of many murals in the hallways of the building.
The Finding Nemo theme continues outside your room! Check the starfish room number and amoeba lamp.
When you enter the room the themeing continues with the table and chairs making you feel as though you are under the sea. This table will convert to an "Inova Bed" which is a double bed and quite comfortable.
The Master Bedroom has a queen bed with jellyfish inspired lamps on the nightstand.
The living room offers a whimsical kitchenette with a sink, refrigerator, coffee maker and microwave.
When it's time for bed, just pull the table down to expose the double bed. So easy, even a child can do it! (But Mommy and Daddy better help just to be safe....)
~~~~~~~~~~~~~~~~~~~~~~~~~~~~~~~~~~~~~~~~~~~~~~~~~~~~~~~~~~~~~~~~~~~~
Lion King Family Suites at Disney's Art of Animation

The Lion King Family Suites at Disney's Art of Animation immerse into Simba's jungle. The sofa shown above is a pull out double bed.
The dresser in the living room has plenty of storage space and holds a TV, one of two in the suite. Feel like signing? The two small tables have the words to "Hakuna Matata" and "I Just Can't Wait To Be King".
The theme carries into the bathroom with a Lion King inspired shower curtain.
Mirror, mirror on the wall, who is the fairest animal in the jungle?
The Master Bedroom makes you feel like you've stepped into a tropical paradise.
Ready for bed?  Sleep like a lion tonight in the double Inova bed!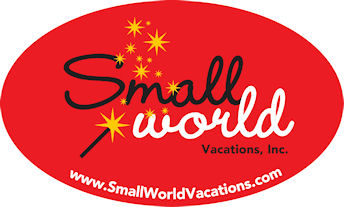 Contact Small World Vacations agent, Cheryl at Cheryl@smallworldvacations.com for assistance with your Disney vacation.