The Beast welcomes guests to Be Our Guest Restaurant serving lunch and dinner in the new Fantasyland. It will feature a lavish dining experience in the elegant ballroom, gallery, and mysterious "West Wing" of the castle. With seating for 550, this magnificent facility will offer "great food fast" service by day and full-service table dining in the evening.
Be Our Guest Restaurant features 3 uniquely themed dining rooms:
The mysterious West Wing, featuring an enchanted rose
The Rose Gallery with twirling, larger-than-life figures of Belle and Beast (this dining room available at lunch only)
The Ballroom, elegantly styled with a domed ceiling, twinkling chandeliers and views of softly falling snow
A family crest featuring the Beast's rose heralds the entrance to Be Our Guest Restaurant.
Peruse the menu before you dine at Be Our Guest Restaurant.
Delight in French-inspired cuisine served at lunch and dinner daily. Sample menu items may include:
Sandwiches and salads at lunchtime, including the classic croque monsieur (ham and cheese sandwich), tuna Niçoise salad and grilled steak sandwich with garlic butter spread—plus, of course, pommes frites (French fries)
Heartier fare at dinner, including braised pork, grilled strip steak with pommes frites, French onion soup and vegetable quiche, accompanied by a selection of wine and beer that complements the French-inspired cuisine
For a sweet ending to a memorable meal, be sure to try a castle-made cupcake or cream puff!
A beautiful mosaic and lions transforming into lambs greet guests at the door.
Beauty and the Beast!
At lunch, guests can order as a family on a touch screen. Food will be delivered to your table on real plates. This system eliminates the need for one person to order while the rest of your party finds a table.
Card Swipe Station for lunch. For payments by cash or voucher, see cashier.
The transformation theme continues in the restaurant.
In the Rose Gallery dining hall, Belle and the Beast dance on a large music box in the center of the room 
Family portraits lines the walls.
The ballroom is straight of the Disney Classic animated movie, Beauty and the Beast. You will be entranced by the "snow" falling outside the windows.
In the West Wing, you will find...
The Rose. Watch carefully for a pedal to fall.
In the West Wing, a portrait of the Prince magical morphs into the beast as lightening strikes when a pedal falls from the Beast's rose.
After a delicious dinner, the Beast's castle looks magical as you depart into the night.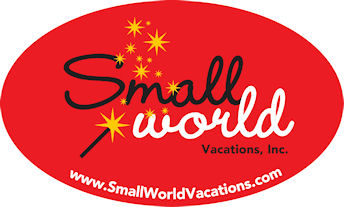 Contact Small World Vacations for assistance with your Disney vacation