When you think of a Disney Cruise, you may imagine ocean breezes, food, sunny skies, food, starry nights and of course, food!

I can assure you there is no shortage of food on the Disney Fantasy and as one of the locations open on embarkation day, Cabanas is likely to be your first stop once you step aboard.



As you exit the aft elevator on deck 11, you are greeted by Nigel, our pelican friend from Finding Nemo, who shows you the way.




Just outside the door you will find a sign with the hours listed, just in case you are running a little early or a little late.



Once you enter the restaurant you will quickly recognize the theming from the movie Finding Nemo.



Nemo and all of his friends are depicted in a 30-foot, hand-crafted mosaic.




Even Bruce the shark makes an appearance with his famous grin.




Cabanas offers a buffet breakfast and lunch where the items are divided into different stations. The lunch items range from soups and salads to steak and chicken dishes. There is even a fresh-from-the-oven pizza station.




There are also various wraps and a carving station where you can build your own sandwich.


If it is seafood you are after, then you're in luck; choose from a variety of fresh fish as well as shrimp, crab legs and mussels.




If the kiddos are less than adventurous, no worries, crispy chicken fingers and golden fries are available!



If you have a sweet tooth, then you've come to the right place. Cabanas offers a delicious array of mini desserts because they know once you see them, you won't be able to choose just one!



There are multiple drink stations throughout the dining area offering soda, juice, coffee and various teas.



Once you've decided on what to eat, your next choice is simply where to eat. You can choose from tables or counters inside, or you can venture outside for dining with an amazing view.



If you are looking for an alternative to rotational dining or would like to dine under the stars, Cabanas is a great choice, offering a dinner menu which features a four-course meal. If you would like to begin with a cocktail or finish your meal with a specialty coffee, no problem. Cabanas offers a full-service bar to meet your needs.

Whether it is breakfast, lunch or dinner you're looking for, Cabanas has it all. Be sure to check your Personal Navigator each day for operating hours.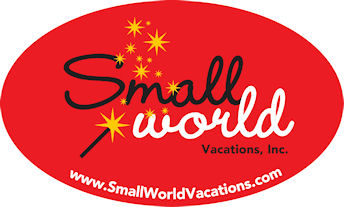 Contact Small World Vacations agent, Renee, at Renee@smallworldvacations.com
for assistance with your Disney vacation.