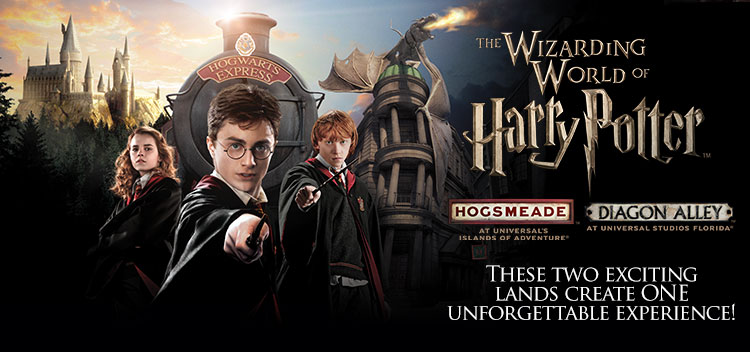 Whether you travel by plane, train, car, broom, apparition, or floo powder – Universal's hottest destination is The Wizarding World of Harry Potter and the brand new Diagon Alley!
With a park-to-park ticket, you can now experience the Wizarding World of Harry Potter at both Universal Studios and Universal's Islands of Adventure. The park-to-park ticket allows you to hop aboard the Hogwarts Express and travel back and forth between Hogsmeade and Diagon Alley without leaving either park.
Journey past Grimmauld Place (and a window-peeking "Creature"), as well as the Knight Bus on your way to King's Cross Station. King's Cross Station will be where you "pass through" Platform 9 3/4 to reach the Hogwarts Express. Once aboard, relive some of the greatest Hogwarts Express adventures as you see many memorable characters and familiar places as you travel towards your final destination, Hogsmeade.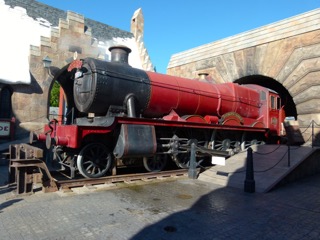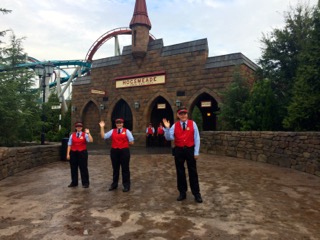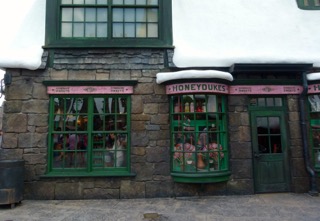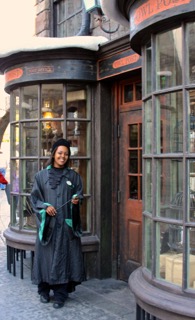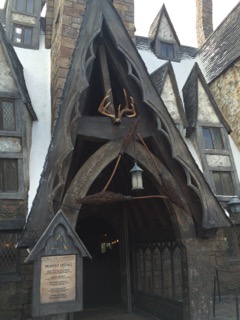 Hop off the train in Hogsmeade for a visit to Ollivander's Wand Shop, Honeydukes, Dervish and Banges, the Owl Post, or even the Hogshead Pub. Feeling famished yet? The Three Broomsticks is a perfect place to grab a bite and rest your broom. Don't forget to try some Butterbeer or Pumpkin Juice!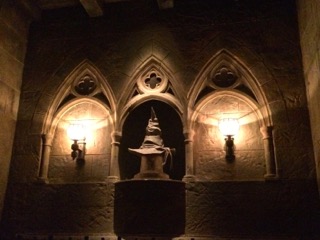 For those with an adventurous spirit, Harry Potter and the Forbidden Journey resides within the grounds of Hogwarts around the corner. Younger wizards may enjoy Flight of the Hippogriff, with a nice glimpse of Hagrid's Hut, and the infamous Buckbeak. For the thrill seekers in your wizarding family, the Dragon Challenge awaits, with not just one, but 2 dragons to take out for a test flight. Which will you try - the Chinese Fireball or the Hungarian Horntail?
When you feel that your challenges have all been conquered, it's time to head back to King's Cross Station for a visit to Diagon Alley.
Upon exiting King's Cross Station, follow your fellow wizards and cast a special spell to gain entry into Diagon Alley.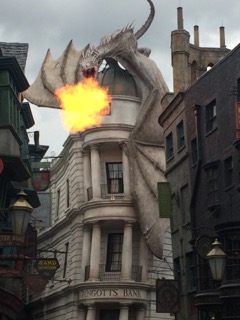 Not sure where to start? Stop by Gringotts for some wizarding money and for the thrill ride Harry Potter and the Escape from Gringotts.
Ollivander's has a shop in Diagon Alley as well if you need to pick up a wand (or let one "choose" you!)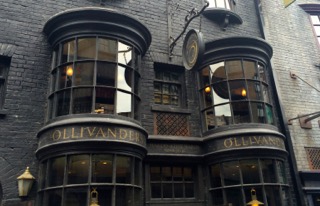 You can also grab school robes from Madam Malkin's Robes for All Occasions, all of your Quidditch gear from Quality Quidditch Supplies, your classroom supplies from Wiseacre's Wizarding Equipment, and your choice of magical creatures from the Magical Menagerie. Scribbulus Writing Implements carries any writing supplies you may need, such as feather quills and parchment paper for those lengthy essays. No trip to Diagon Alley would be complete without a stop in Weasley's Wizarding Wheezes!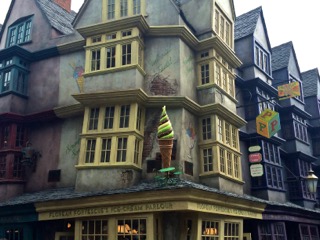 All of this shopping making you hungry again? Try Florean Fortescue's Ice Cream Parlour for a treat, or if you just need to wet your whistle, the Fountain of Fair Fortune is just around the corner from Florean's and the Hopping Pot is around the bend in Carkitt Market. For a larger appetite, the Leaky Cauldron is your answer, with Quick Service fare that even a wizard would enjoy.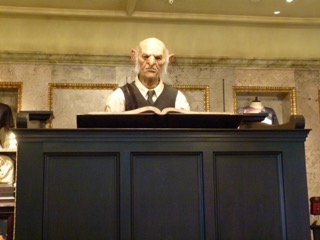 And for the curious lot, stride along over to Carkitt Market to the Money Exchange, where you can actually ask the goblin in charge a question. He's fully interactive and often has quite the response for you. If you aren't brave enough to ask him a question, you can simply exchange your money for wizarding bank notes, which can be used in the Wizarding World of Harry Potter, of course!
For the darker wizards in the family, Knockturn Alley is a must, with a visit to Borgin and Burkes. Make sure you have your wands handy, as Knockturn Alley is quite dark and you never know who you may run into…
Not brave enough to tackle Knockturn Alley? Well how about the Tales of Beedle the Bard & Celestina Warbeck offered several times a day in Carkitt Market?
If after all of this, you still have not chosen your wand, stop by Wands by Gregorovitch and choose one from the legendary wandmaker's shop. Underaged wizards, however, should be careful not to use magic outside of school!
Once you have completed your journey through this magical world, don't forget the last spell of the day…"Mischief Managed"
Contact Small World Vacations Agent Kaye@smallworldvacations.com for assistance with your Universal and Disney Vacation.