DISNEY SPRINGS CHRISTMAS TREE TRAIL DEBUTS
EXTENDED WEEKEND AND HOLIDAY HOURS

The holiday season has arrived at Disney Springs®, and it's not only here, but it's bigger and better than ever. That goes for everything from holiday shopping to entertainment, and of course, to the Disney Springs Christmas Tree Trail!
Back for its second year, the Tree Trail now boasts 25 Disney-inspired trees, including ten additions featuring iconic characters. Wondering what's new? Peter Pan, Robin Hood, Sleeping Beauty, Pinocchio, Snow White, Dumbo, Fantasia, and Lady and the Tramp now take center stage with trees themed to these beloved stories. There's also a tree featuring an assortment of ornaments that are all available at the nearby Disney's Days of Christmas store.
Based on the popularity of this new seasonal staple, hours have been extended an additional hour every Friday and Saturday and also on Christmas Eve and Christmas Day. The Tree Trail is offered through the holiday season, and will run through Jan. 7, 2018. The updated operating hours are as follows:
Monday – Thursday: 12-10 p.m.
Friday – Saturday: 10 a.m.-11 p.m.
Sunday: 10 a.m.-10 p.m.
Christmas Eve, 12/24: 10 a.m.-11 p.m.
Christmas Day, 12/25: 10 a.m.-11 p.m.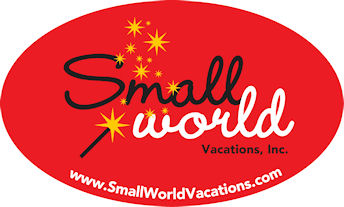 Contact Small World Vacations for assistance with your Disney Vacation