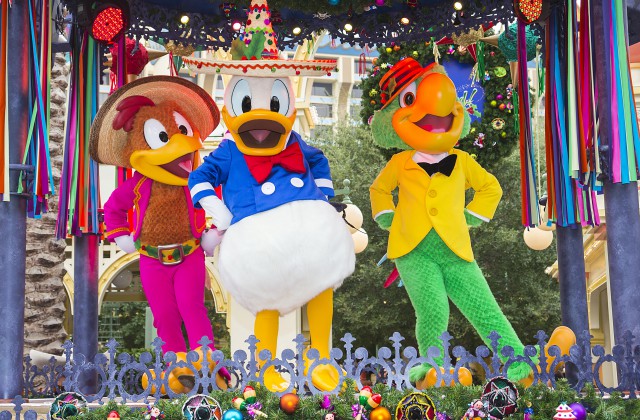 ANAHEIM, Calif. – The warmth and festive spirit of Latino holiday traditions enliven Holidays at the Disneyland Resort with "Disney ¡Viva Navidad!" The lively holiday experience adds merriment to the season at Disney California Adventure Park Nov. 13, 2015 through Jan. 6, 2016, joining the ongoing Disneyland Resort Diamond Celebration festivities.
"Disney ¡Viva Navidad!" fills the Paradise Garden area of Disney California Adventure with jubilant dancing, exciting music, holiday foods and crafts, and appearances by some popular Disney characters. The exuberant "Disney ¡Viva Navidad! Street Party" is a daily highlight of the celebration.
Disney characters participating in "Disney ¡Viva Navidad!" include Mickey Mouse, Minnie Mouse and Goofy in their festive costumes along with the Three Caballeros: Donald Duck, Panchito from Mexico, and José Carioca from Brazil.
Paradise Garden is decorated with holly, banners and Latino cultural icons, including traditional "papel picado" – hand-cut paper art decorations.
The lively "Disney ¡Viva Navidad! Street Party" takes over Paradise Garden several times a day, featuring the Three Caballeros on a colorful holiday float, Mickey Mouse and Minnie Mouse on brightly decorated street tricycles, Brazilian samba dancers and drummers, and flag bearers. The street party draws on long-standing traditions that continue to be practiced today in small towns and cities across Mexico, where townspeople celebrate the holidays by processing down cobblestone streets with Mariachi bands, folklórico dancers, larger than life "mojiganga" puppets and colorful flags.
At the Paradise Garden bandstand, guests may enjoy performances by traditional Mariachi, Norteño, and other regional music groups. Also at Paradise Garden, community music and folklorico troupes will perform on the weekends.
"Disney ¡Viva Navidad!" guests will enjoy fun arts, crafts and storytelling, as well as a selection of unique merchandise.
Dining locations in Paradise Garden add an array of popular Mexican food options. Menus will feature Mexican dishes that are often served for the holidays, such as fresh seafood ceviche with citrus vinaigrette, house-made pozole (hearty stew), chicken mole, street-style tacos, sopes de Barbacoa (shredded beef), Champurrado (Mexican-style hot chocolate), sweet tamales, torta al pastor (pork sandwich) and cinnamon-dusted buñuelos (deep-fried sweet treat) with caramel sauce.
Capping off "Disney ¡Viva Navidad!" will be the special five-day celebration of Three Kings Day (Dia de los Reyes) 2 through 6, 2015 in Paradise Garden. Traditional Rosca de Reyes bread will be served in honor of this special holiday.
"Disney ¡Viva Navidad!" brings its own special magic to the traditional Disneyland Resort holiday season, as well as to the ongoing 60th Anniversary Diamond Celebration. The fun at Disneyland includes the daily "A Christmas Fantasy" parade, nightly "Paint the Night" parade and "Disneyland Forever" fireworks. In Disney California Adventure, even Mater gets in the spirit, donning a red hat to meet guests inside the festively decorated Cars Land. The special holiday "World of Color ­– Winter Dreams" returns with snowman Olaf as your host, and the separate Diamond Celebration "World of Color – Celebrate! The Wonderful World of Walt Disney" show also is presented nightly. Throughout the resort, guests will enjoy holiday music, décor and characters in special holiday attire.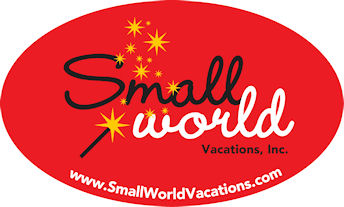 Contact smallworldvacations.com for assistance with your Disney vacation!