Festival of Holidays at Disney California Adventure Park

Festival of Holidays begins Friday, November 10 and runs through January 7, 2018 at Disney's California Adventure Park.
The holiday spirit is sprinkled throughout the park like pixie dust.
Perfectly adorned wreaths, festive holiday banners, and twinkling lights evoke the holiday season, Disney-style.

The sweet scent of decadence fills the air as the bakery windows proudly display their new seasonal offerings.
New holiday accessories and apparel line the store shelves just begging to live under the tree...
Or on it!
Join the festivities with Mickey Ears that light up and twinkle.
The colorful Festival of Holidays marketplace kiosks serving multicultural fare for you to sample. (Fee for food.)
There are 12 kiosks in different locations around the park, each offering a unique culinary experience.
Live entertainment will fill the air with holiday-inspired performances. Detailed information on the special food, entertainment and festivities is printed on pillars located near the kiosks.

Immerse all your senses as you take in the wonder of the magical holiday season at Disney California Adventure Park.

Let the countdown begin!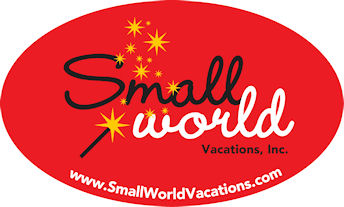 Contact Small World Vacations for asssistance with your Disney Vacation