The quaint French Village where Belle laments her provencial life has come to life in Disney's newest addition to Fantasyland. Along with the Beast's Castle and Maurice's Cottage, you will find Gaston's Tavern and the Village Gift Shop.
Every town square needs a statue of its most illustrious citizen. In this case, a life-size bronze fountain featuring Gaston and pal, LeFrou take center stage.
If you are lucky, you might get to flex your muscles for Gaston, himself.
Gaston's tavern, a place for a cold brew... without alcohol, of course.
Le Frou's Brew is a delicious frozen slurpy-like drink that tastes like apple pie in a gobble. Choose from souvenir mug featuring Gaston or Belle for $9.99.
Other quick service menu choices include roasted pork shank, warm cinnamon roll, chocolate croissant, mixed fruit cup, sliced apples with caramel sauce, mixed veggies cup with dip and hummus and chips.
Enjoy your refreshments in an manly atmosphere decorated in antlers by Gaston.
Look around the tavern for evidence of brawls and mayhem. A coonskin hat and a set of keys hang from an antler chandelier. What did you find?
A portrait of the tavern's namesake, Gaston, hangs proudly over a stone hearth.
Next door is Village Gifts featuring a wide array of Beauty and the Beast inspired merchandise.
Be Disney's guest and bring home a special momento of your visit to Belle's Village.
After dark, Gaston's is a welcoming sight.
Gaston and LoFrou bid guests farewell after a day filled with Disney magic.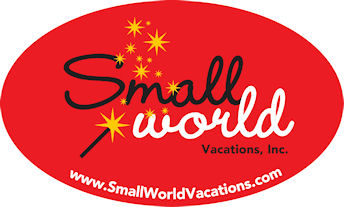 Contact Small World Vacations for assistance with your Disney vacation.
5 responses to "Gastons Tavern and Village Gifts by Sue Pisaturo"
Comments now closed