On select nights in September and October the Disneyland park in California host Mickey's Halloween Party! A special ticket is required to attend this event. You will want to start your evening out in Toontown where a halloween pre-party starts an hour before the scheduled time of this event! There you can find all your Disney Favorites in their Halloween costumes! Get pictures with Mickey & Minnie, and Chip & Dale!
You may also see Pluto & Donald, and Goofy!
Sleeping Beauty's castle looks erie with cob webs and a special Villians Firework dispay is presented for the party!
Enjoy the Halloween decorations on Main Street!
There is a huge Mickey Mouse Jack-O-Lantern in Town Square and all the windows on Main Street are decorated!
Your favorite Disney villans are brought out into Town Square for meet and greets! You can see Cruella De Vill, and Dr. Faciler.
The Queen from Snow White and Malificent!
Also out are the Step Sisters and Lady Tremaine!
You won't wan't to miss this opportunity to visit with some of these rarely seen Disney Villians!
Everyone gets to go trick-or-treating throughout the Disneyland park at the Halloween party! Large Mickey Mouse balloons indicate the enterance to each of the trick-or-treating trails! This is the one time of year that adults are allowed to wear costumes into the park. But they are not required.
There is also a special Hallowen parade!
Look out for pirates in the parade!
You will also see some very tall scarecrows!
All the Disney characters are out in their Halloween best!
There's lots of fun to have at Mickey's Halloween party including the singing ghost that sail near Tom Sawyer's Island!
Photos by John Monton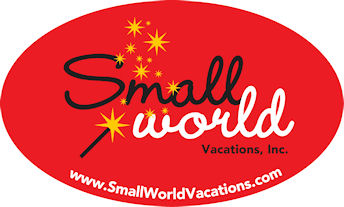 Contact Small World Vacations for assistance with your Disney Vacation!