STAR WARS: GALAXY'S EDGE ANNOUNCED AS NAME FOR STAR WARS LANDS AT DISNEY PARKS
Bob Chapek, Chairman of Walt Disney Parks & Resorts, revealed the official name of the Star Wars-inspired lands that are currently under construction at the Disneyland® and Walt Disney World® Resorts, and shared details on the immersive experiences you will be able to enjoy when the lands open in 2019.
The lands, both called Star Wars: Galaxy's Edge, will allow you to visit a remote trading port on the edge of wild space, where Star Wars characters and their stories come to life – and where Guests will find themselves in the middle of the action.
The lands will feature two major attractions that put you in the middle of a battle between the First Order and the Resistance. Each attraction – and even the land itself – will offer you the chance to immerse yourself in the Star Wars universe like never before.
One attraction will make you feel like you're on a Star Destroyer inside a hangar bay. It's an attraction built on a scale Disney has never done before.
The second attraction will give you the opportunity to fly the Millenium Falcon, piloting the ship, shooting blasters or preparing for hyperspace – all while completing a critical mission. But how you perform on the mission holds even bigger stakes: perform with skill and they may earn extra galactic credits, while bringing the ship back banged up could put you on the list of a bounty hunter. End up on Harkos's list and you may face a problem if you show up at the local cantina!
Guests will also encounter many familiar faces inside Star Wars: Galaxy's Edge, including BB-8, Chewbacca, members of the First Order and – among many others – Rex, the troublesome pilot fans may remember from the previous version of a certain Disney attraction who takes on a new role in this land as the DJ at the cantina.
And speaking of the cantina, here you will be able to try unique concoctions like blue milk. Nearby, you'll also be able to acquire trinkets and treasures from across the galaxy.
Star Wars: Galaxy's Edge will open in 2019, first at the Disneyland Resort and later in the year at the Walt Disney World Resort. (No further opening dates have been announced yet.)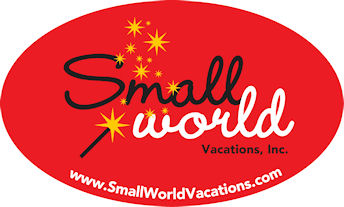 Contact Small World Vacations for assistance with your Disney Vacatio