RE-IMAGINED FLYING FISH NOW OPEN ON DISNEY'S BOARDWALK AT WALT DISNEY WORLD RESORT
After a major re-imagining, the Flying Fish at Disney's BoardWalk Resort is now open. The entire interior, including the on-stage kitchen, has been beautifully redesigned, along with an all-new menu crafted by Chef Tim Majoras, a veteran of the Flying Fish kitchen.
The seafood-centric menu features entirely sustainable fish and shellfish, and includes Chef Majoras' creations such as corn-crusted wild Gulf shrimp, wild Alaskan king salmon and plancha-seared Hokkaido scallops. For carnivores, there's Wagyu filet mignon, Kurobuta pork belly and bison striploin. General manager and sommelier Stig Jacobsen has crafted a new wine list with nearly 80 selections by the glass.
The new interior design is inspired by the beloved flying fish of Disney's BoardWalk Resort, which are displayed subtly throughout the location – from upholstery patterns to kitchen tiles. The updated look includes some sparking architectural accents, such as golden-winged room panels and a glittering chandelier that mimics a school of flying fish swimming overhead. The restaurant also features boardwalk-inspired mementos like carnival art, vintage games and a nod to the legendary "Flying Turns" rollercoaster.
The new AbracadaBar lounge will open soon next door, taking the spot formerly occupied by Seashore Sweets candy and ice cream shop. This new "curious cocktail lounge" combines the Golden Age of Magic with the magic of Disney storytelling. From enchanted magic show posters and mystifying mirrors to vintage props and tricks, AbracadaBar promises to be just as surprising and magical as its name suggests.
Book reservations at the Flying Fish today by visiting DisneyWorld.com/dine or by calling 407-WDW-DINE.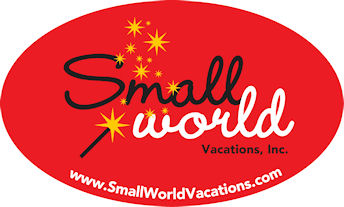 Contact Small World Vacations for assistance with your Disney Vacations.