It's official! Toy Story Land, the highly-anticipated toy-filled land inspired by the beloved "Toy Story" films, will open to Guests at Disney's Hollywood Studios® June 30, 2018.
When it opens, Guests visiting Toy Story Land will "shrink" to the size of a toy and join in on the fun Woody, Jessie, Buzz, and Andy's other beloved toys are having in Andy's backyard. Here, you can take a ride on Slinky Dog Dash, a roller coaster Andy has assembled from his Mega Coaster Play Kit and topped off with Slinky and Jessie. (Check out the time-lapse video below of one of Slinky Dog Dash's first test runs).
Families will also be able to take a spin on Alien Swirling Saucers, a galactic play set that Andy won from Pizza Planet. Here, adorable little green aliens swirl about in their flying saucers with guests in tow in their rocket ship toys, while "The Claw" hangs overhead.
Walk through a new carnival game box to experience Toy Story Mania!, which has been a Guest-favorite attraction at the park since it opened in 2008. Now expanded with a third track, the popular attraction will put even more Guests in the action taking aim at 3D objects – using everything from baseballs to cream pies – in a variety of whimsical, fast-paced games.
Woody's Lunch Box – actually, Andy's lunch box that he's set on its side – will serve up tasty meals and old-fashioned soda floats from a walk-up window setting. The entire land will serve as a visual celebration of toys, with Crayons, Cooties, Green Army Men, Rubik's Cubes, Tinkertoys, and other familiar toys and game pieces incorporated into the land's design.
When Toy Story Land debuts at Disney's Hollywood Studios this Summer, the Alien Swirling Saucers attraction will immerse guests in the playful environment of some of Andy's most beloved toys. Inspired by the first Toy Story film, the attraction is designed to look like a toy play set that Andy got from Pizza Planet. The Toy Story Aliens will playfully try to capture guests ride vehicle with "The Claw". (Disney)

You will get to play big in Andy's backyard and also get to ride big on two family-friendly attractions planned for the new land and one popular fan favorite.

Here's a first glimpse at the latest artwork for one of them – Alien Swirling Saucers.
Once the aliens have powered up their flying saucers, you will get to climb into a toy rocket and hang on as aliens lead the way on an interstellar romp set to an out-of-this-world beat. And if you're really lucky, you just might get "chosen" by the claw!
Toy Story Land Concept Photo ©Disney Pixar Slinky® Dog is a registered trademark of Poof-Slinky, Inc. and is used with permission. Jenga® Pokonobe Associates. All Rights Reserved. Tinkertoy® is a registered trademark of Hasbro, Inc. Used with permission. 2018©Hasbro, Inc. All Rights Reserved.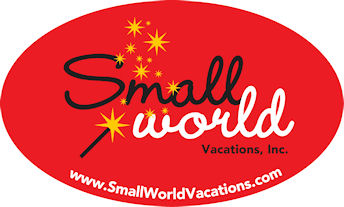 Contact Small World Vacations for assistance with your Disney Vacation.