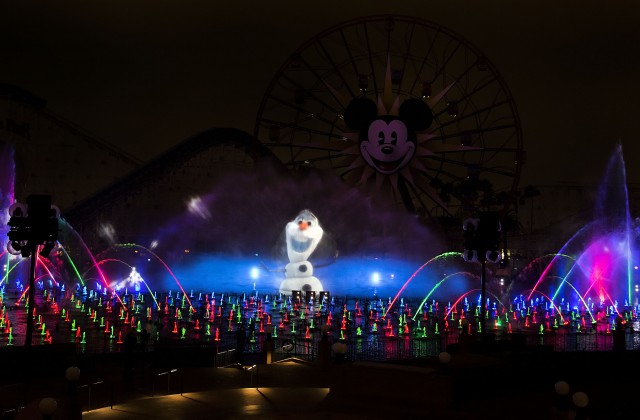 ANAHEIM, Calif. – This year, Holidays at the Disneyland Resort will offer a double-bill of "World of Color" shows on Paradise Bay in Disney California Adventure Park. The traditional holiday "World of Color – Winter Dreams" will return, featuring Olaf the snowman from the Walt Disney Pictures animated hit "Frozen" and a variety of wintry scenes with Disney characters.
Also on the holiday schedule is the Disneyland Resort Diamond Celebration spectacular "World of Color – Celebrate! The Wonderful World of Walt Disney," a fun and exciting tribute to the vision and creativity of Walt Disney, hosted on the giant screen by Mickey Mouse and award-winning actor Neil Patrick Harris.
"World of Color – Winter Dreams" is the first show of the evening, followed by "World of Color – Celebrate!" Guests will need a FastPass to see the shows, and may check the park entertainment schedule for show times, usually 7 and 8:15 p.m. nightly, or 9 and 10:15 p.m., depending on Disney California Adventure park hours.
"World of Color – Winter Dreams"
The popular holiday version of "World of Color" features more than a dozen songs and unfolds in seven sequences, each one a dreamlike adventure:
Wonder – Season's Greetings: Guests join Anna and Elsa from "Frozen" as the sisters play in a magical world created by Elsa's powers of snow and ice.
Snow – A Winter Wonderland: Olaf takes guests on a breathtaking winter sleigh ride, encountering Bambi, Thumper, Beauty and the Beast and other classic Disney characters.
Enchantment – The Toy Story Nutcracker: This familiar ballet is danced in some delightful, offbeat renditions by favorite "Toy Story" characters.
Glow – A Season of Light: Holidays from around the world are celebrated with a magical pop-up holiday card, touching moments with Disney characters, and a sky filled with luminaria from "Tangled."
Spirit – Olaf's Sing-Along: Snowman Olaf invites everyone to join in singing holiday classics, from "Jingle Bells" to "The Dreidel Song" and "Feliz Navidad."
Olaf's Wish – In Summer: Olaf has always loved the idea of a warm summer. He innocently imagines himself enjoying the sunshine "In Summer," before melting into another favorite "Frozen" musical moment, "Let It Go."
Finale – Merry & Bright Holiday Lights: Olaf welcomes a surprising Santa as 700 newly installed lights blaze to life for a colorful finale around the lagoon.
"World of Color – Celebrate! The Wonderful World of Walt Disney"
"World of Color – Celebrate!" unfolds in five exciting sequences:
Opening: The "World of Color" overture and the magic of Tinker Bell's pixie dust introduce our hosts, Neil Patrick Harris and Mickey Mouse.
It Was All Started By A Mouse: From black-and-white cartoons to Technicolor stardom, "World of Color – Celebrate!" honors Mickey Mouse.
The Golden Age of Animation: A dazzling exploration of Disney animated features stirs hearts with a kaleidoscope of happy memories.
The Dream of Disneyland: A celebration of Disneyland, the "Happiest Place on Earth," from Walt's opening day dedication to creating smiles around the world.
Finale: Infinity & Beyond – A Celebration for Years to Come: The finale warmly wishes everyone to stay "Forever Young," holding on to their dreams.
Emmy- and Tony- award-winner Neil Patrick Harris is a longtime Disney fan whose numerous acting credits include starring roles on Broadway, television and films.
More than five minutes of new animation were created by Walt Disney Feature Animation to allow Mickey Mouse to step into the imaginative new journey of "World of Color – Celebrate!" Pixar animators also created new animated footage, allowing Mater, from the film "Cars," to kick up his wheels with the baby tractors.
Enduring Popularity and Theatrical Technology
The nighttime spectacular "World of Color" debuted in 2010. Since then, more than 10 million guests have experienced the show at Disney California Adventure, in more than 2,800 performances.
Nearly 1,200 dancing fountains are the talented stars of "World of Color," generating excitement through synchronized, computerized movements. From geysers and dancers to water whips and flower spouts, the fountains are all just beneath the surface of the bay, anticipating their big moments and leaping at any chance to perform.
The show's theatrical technology features a 380-foot wide water screen used for digital projection. The water screen takes on live characteristics, changing shapes, creating special effects, and interacting with other media in the show: color, fire, lasers and fog.
The "World of Color" screen uses more than 30 million pixels. By comparison, a high definition television image uses 2 million pixels.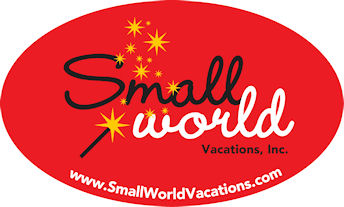 Contact smallworldvacations.com for assistance with your Disney vacation!