In a special ceremony, water from the original 20,000 Leagues Under the Sea attraction was poured into the "sea" at Ariel's Grotto. Small World Vacations owner, Sue Pisaturo, participated in this historic Disney event.
A tribute to the Nautalis Submarines can be seen in the rocks surrounding Ariel's Grotto.
Under the Sea ~ Journey of the Little Mermaid, a major attraction where guests will travel with Ariel and her friends through their exciting adventures above and below the waves – all against a musical backdrop of songs from the film.
Silly crabs keep you entertained as you move through the attraction queue.
The new attraction combines the enduring appeal of a classic Disney "dark ride" with wonderful technological innovations to offer guests a personal journey into the scenes of the film. Adventurers will feel as if they are descending below the ocean's surface. Once "under the sea," guests will find themselves immersed in the story of "The Little Mermaid," sharing Ariel's adventure through a magical cast of characters and a captivating musical score that will entice everyone to sing along.
You will see a ceiling of bubbles as you decend below the ocean.
You want thing-a-ma-bobs?
Flipping your fins you don't get too far...
Under the sea, everything's better down where it's wetter..
Keep singing
Kiss the girl
The Kiss!
King Triton approves
And Scuttle does too!
Prince Eric and his bride
The fun continues at "Ariel's Grotto," a meet-and-greet with the mermaid heroine herself.
Meet your favorite Disney mermaid princess and take a photo for your memories.
After dark, Prince Eric and Ariel's Castle takes on a beautiful blue glow.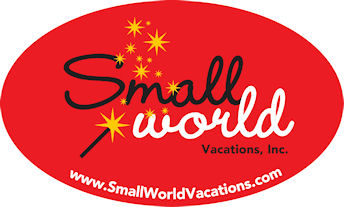 Contact Small World Vacations for assistance with your Disney vacation